UnLalleo is
UnMeegee
's brother. He looks like UnMalleo except the green parts are 4tren. Instead of Fart Flowers he can make "Face Flowers" which can stare at you and give you the UnLalleo Virus. He is also the owner of UnLalleo School, located in the blue eye of the UUUGUU. Strangely he is not enemies of UnWeegee. He later turned against his brother and joined a green-loving army called the UnGreenziis. His friends tease him and call him Satan's Grandma. His sons are UnSamalalleo. Compared to the other UnLalleo, UnLalleo is extremely successful, and some planets are named after him.He is part of UnMalleo's Rainbow. He has been trying to revive his brother via a N64 playing "Bring Me the Head of Charlie Brown".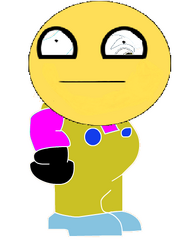 Ad blocker interference detected!
Wikia is a free-to-use site that makes money from advertising. We have a modified experience for viewers using ad blockers

Wikia is not accessible if you've made further modifications. Remove the custom ad blocker rule(s) and the page will load as expected.